Time to review Dark Shadows, oh boy.
Where to start about Tim Burton's adaptation of the cult 60's/70's TV show? Well, it's a Tim Burton film, you big dummy. It's got quirky characters, Johnny Depp, gothic themes and styles, Helena Bonham Carter, a Danny Elfman score, and that's about it. So, besides the usual tripe Burton incorporates into his films (Johnny Depp and Helena Bonham Carter), what's this really got to offer?
As it's a remake of what many people consider a classic TV series, I can't really give this a great amount of creative and artistic credit, and I can honestly say that I feel that way about most Tim Burton films, adaptation or not. What this film does have going for it however, is some quirky dialogue (in places), and some amusing scenarios. It also has some intriguing Vampire mythos woven in, which I find refreshing, as Vampires have become the Jar-Jar Binks of modern horror/supernatural fiction (all credits going to Stephanie Meyer, nice going, ya dumb bitch).
Most of the humour in the film is derived from Johnny Depp's character, Barnabus Collins, and particularly his struggle to adapt to the modern world, as he's been stuck in a box for 200 years (arguably preferable to having to look at Helena Bonham Carters face regularly). A lot of the humour also comes from Barnabus archaic use and understanding of the English language.
Beyond that, there's some nice 70's style, music (Curtis Mayfield, very sexy), and some pretty decent visuals. That's about all the good it does for me.
The rest of the characters, I have to say, I did not like. Helena Bonham Carter playing the usual ego-centric tosser that she usually does. Chloe Grace Moretz playing an unlovable obnoxious brat of teen (absolute twat, I have to say), who 'digs' all that 60's/70's free love hippy bullshit. And then there's the rest of the cast, who besides Michelle Pfeiffer, are all pretty unmemorable, and yes, that includes the antagonist.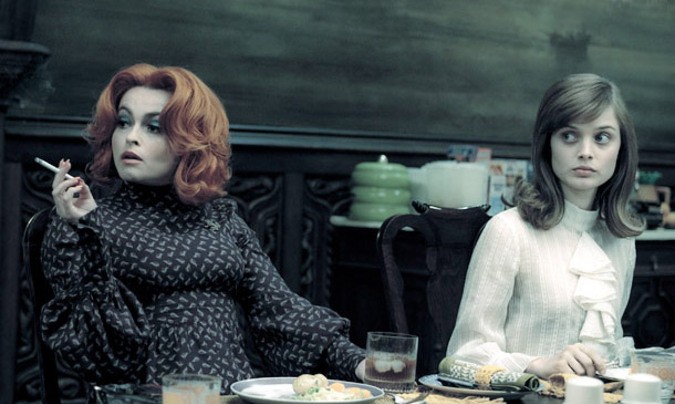 And that leads nicely to my next point, the antagonist is forgettable. The antagonist feels almost like a secondary plot point to the main plot, which is watching Johnny Depp act like Johnny Depp, except with pointy teeth, giving the audience his usual quirky wierdo schtick. That's not to say I don't like Johnny Depp. I genuinely think he's a talented actor, he's just overcast, and type cast in roles specifically made for him to do the usual wierdo twat dance by which he shall be remembered. Back to my point about the plot, the main villain, who set this whole thing off by cursing the Collins family, feels secondary. The plot lacks coherency. All the way throughout, I was thinking 'what the fuck is going on?'. The plot jumps from situation to situation, without clear regard to maintaining a meaningful plot. By the time the climax of the film arrived, it felt like it came out of the blue (out of Tim Burton's arse more like). 
To summarise, this isn't a particularly good film. It's got some amusing dialogue. Some enjoyable scenarios (particularly where Depp's vampire slaughters a group of hippies. I enjoyed that). And overall, looks nice, and has a nice feel to it. But that is not enough to save this film from incoherency and being pretty much, another Tim Burton film.