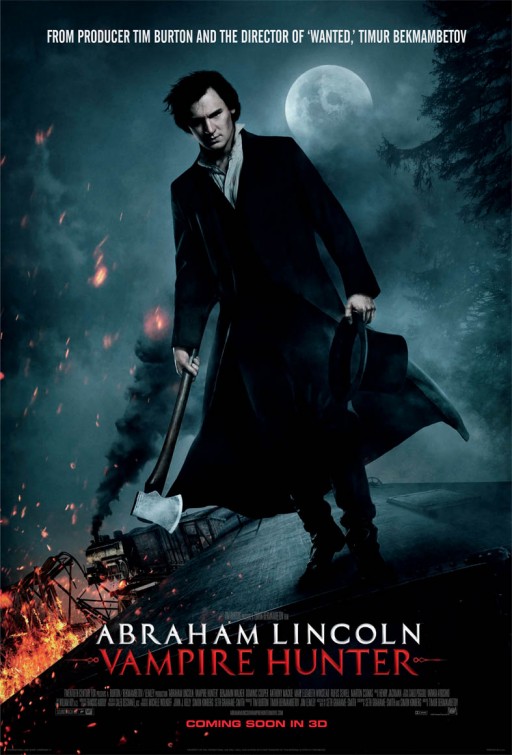 I recently saw Abraham Lincoln: Vampire Hunter, directed by Timur Bekmamtimbuktu (Timur Bekmambetov). Now, I've not studied reviews, or listened to opinions from many people about the film, as I prefer to go into a film largely unbiased, besides my own reservations I make from trailers, titles, etc. In some respects, this makes it rather hard to decided where I stand on a film, in others, I'm not being reeled in by another opinion. This is the exact problem I have with reviewing this film.
Now, from the title, this sounds like it's basically going to be a load of bollocks. It sounds like the Hollywood steam train of idea's has run out of coal, and they're going to have to use some bullshit substitute to keep it all running. This isn't a particularly intelligent film. It's not that historically accurate. And a fair bit of the acting leaves a lot to be desired. It is however, a very enjoyable action romp, which I have no problem with. Films are there to entertain are they not? Are they not there for us to have some escapism? That's exactly what this is. It's an enjoyable, not too deep, not too clever action movie.
The film basically follows the secret life of a highly fictional Abraham Lincoln. In many ways, I feel the plot would have worked better as simply, a vampire-hunting movie, as opposed to making it into this 'president by day, vampire hunter by night' gimmick. That said, the second half of the film probably wouldn't have worked without the president part and it's rather well done tie-in to the American Civil War.
The acting throughout left a lot to be desired, however, the dialogue really seemed to matter little as the film is pretty much entirely action driven, even when ol' Abe is in his tender old years at the white house, and he's still swinging an axe about like a lumberjack pumped full of LSD (Which sounds rather entertaining, your next film perhaps Mr. Director?). The acting almost feels unnecessary, and rather secondary to watching Mr. Lincoln cleave the heads off the undead. Benjamin Walker, who plays Abraham, was actually rather good at it. Earlier in the film he does a fairly decent job at portraying a very naive, revenge hungry young man, and progresses rather nicely into an axe swinging, speech making president (what was it that Theodore Roosevelt said? 'Speak softly and carry a big stick'?). Dominic Cooper plays his mentor and trainer, Henry Sturgess, and does a fairly decent job at playing the American stereotype of the arrogant foppish English gent. Everyone else is fairly unimportant, and I felt that their characters/portrayals had pretty much zero impact on my opinion of the film. There is of course a customary 'token black friend' (apologies if that seems racist, it was not intended to be), who is linked in with the slave trade, which becomes tied in with the film. Mary Elizabeth Winstead is also present as Lincolns wife, and while she may have done a good job in other roles, here, I found her to be rather irritating. I'm not sure why. She just seemed over opinionated. Dumb bitch. No, I'm not a chauvinist pig. Screw you.
That's about all I can fathom saying about the acting, the dialogue doesn't do much beyond introduce new scenarios and motives, and there are some truly horrendous one-liners.
The action throughout, is a spectacle. It very much grabs the eye, and while alot of it at points may seems stupid, or completely unfathomable (they drift a fucking horse and cart at one point) I tried to keep in mind that this is a film about one of the arguable most revered and well known presidents making a career of hunting the undead. There are some bits in this film that did make me jump, and while it's not going to keep you up at night, it does provided some very strong jolts, much like firmly clenching an electric fence. Much of the film features very visceral, violent combat, as we see the protagonist and company dispatch the undead in many wonderful and violent ways. It makes heavy use of slow motion, much akin to a Michael Bay movie, or as a friend pointed out 300. Personally, I enjoyed this, as it let me watch take in the detail of much of the combat. It's a shame we can't see this sort of violence being applied to Robert Pattinson, so that he can't take part in any more Twilight, and that franchise would hopefully die.
The plot earlier in the film feels somewhat pointless, and cliche. But later in the film, with the civil war backdrop, and Lincoln in office, I felt it actually became quite ambitious for a ridiculous action film (one adapted from a book, at that).
Overall, it's not the best thing I've ever seen. It's certainly enjoyable, in a frivolous pointless way, like spending all your pocket money on Afterburner (classic game, if you did not play it, you have not lived) at the arcade. It would be stupid of me to dismiss this film as bad because of it's basic premise, which while sounding ridiculous, does actually make for some entertaining viewing.